Image Clarity in Low Light Environments
Without sufficient light, you may end up with grainy images and incorrect colors. Having cameras that deliver clear, crisp images regardless of lighting helps security and operations personnel do their jobs more effectively.
Cuts Through Glare & Reflections
It can be hard to see details when bright lights distort images of people and property. Having cameras that dynamically optimize exposure settings to capture details in parking lots, city streets, schools, college campuses, and construction sites takes the guesswork out of investigations.
Traditional noise filtering uses temporal noise reduction, which compares one frame to the next and removes data (noise) that doesn't match. Pelco cameras enhance traditional noise filtering technology by incorporating spatial noise reduction (SNR). SNR gathers information from previous frames to calculate and form a model that removes noise from the current frame without degrading the critical details in a scene. The result is an image that is clearer, sharper, and noise-free. With a cleaner signal than comparable technologies, Pelco's 3D noise filtering also requires less storage space.
Pelco cameras with SureVision technology deliver industry-leading image quality in the most difficult lighting conditions. The IP cameras simultaneously combine wide dynamic range (WDR), low-light and 3 anti-bloom capabilities for clear, detailed images. There is no need to choose a setting and change it when lighting conditions change, making them ideal for traffic monitoring, gaming, critical infrastructure, education and many other mission-critical applications.
In this example, you can compare the low-light performance of an LL/WDR security camera (left photo) and a Pelco SureVision camera (right photo). At 2.0 lux, both cameras were running at 30 fps with equivalent settings.
High risk areas stay protected
For areas where people and property are at high risk, making sure video surveillance is uninterrupted can save lives. Schools, retail stores, municipal buildings and other high risk areas benefit from vandal- resistant cameras that are designed to withstand direct blows to their housings and lens covers without breaking and without interrupting the video.
Vandals also find it next-to-impossible to open the camera's housing to do damage or make any kind of alteration. When an attempt is made to obscure the camera's view, like spray painting, covering or moving the camera, the camera tamper detection analytics send an alarm to security personnel.
---
Pelco cameras with SureVision technology deliver the best possible image in difficult lighting conditions, including a combination of bright areas, shaded areas, and intense light.
ExSite® Enhanced Explosion-Proof Camera System
---
High Reliability, Full HD Fixed And PTZ IP Systems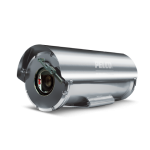 FULL HD FIXED IP SYSTEMS
---
Explosion-proof Camera System: High Reliability, Full HD Fixed IP Systems
Up to 1920 x 1080p Resolution Wide Dynamic Range (WDR),
30x zoom lens, and Superb Low light Performance
Dual Stream H.264 IP Video with Smart Compression
Rated to Operate from -60 to +60° C while in Compliance to T6
Surface Temperature (<85° C) Hazardous Location Regulations
316L Billet Stainless Steel Electro Polished Construction
Standard IP Ethernet Connection and Integrated Transmission
Options including Fiber, Ethernet over Coax, and UTP Extension
PTZ & IR Illuminator Option
---
Explosion-proof Camera System: High Reliability, Full HD PTZ IP Systems with Variable Zoom IR Illuminator.
Includes Features in ''Fixed'', including the following:
Extremely Reliable Pan/Tilt Direct Drive Motion Control System
Upright or Inverted Installation with Automatic Orientation Detection
Low Latency Electronics for Improved Pan/Tilt Driveability and Safety
Vari-zoom IR Illuminator Option with 200 Meter Range
EXP1230-4N
EXP1230-7N
EXP1230-7M
Esprit® Enhanced Series IP PTZ Positioning Systems
Standard, with PTZ, & IR Illuminator Option
Pelco's iconic Esprit® Series positioning system provides best-in-class image quality and pan/tilt performance. Esprit Enhanced provides the total package of impressive image quality, valuable software features, and time-tested pan/tilt performance suitable for any installation environment.
---
Pelco's Sarix Enhanced 3 Fixed IP cameras provide a broad range of spaces with higher resolutions, advanced analytics, and a wider breadth of coverage.
Sarix Enhanced Series 3 Dome
SARIX IME 3
Mini-Dome Indoor | Mini-Dome Outdoor
The indoor domes feature microphones, and in addition to holding an IK10++ 50 J impact rating, all dome models also include 50M+ adaptive IR and RAL 9003 lighter color.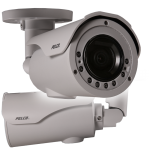 Sarix Enhanced Series 3 Bullet
SARIX IBE 3
Bullet Outdoor IR
The bullet models offer 50M+ adaptive IR with a rugged IK10 rating and outstanding ingress coverage.
Sarix Enhanced Series 3 Box
SARIX IXE 3
Box
The box models include P-Iris and i-CS lenses for remote zoom and more accurate focus control.
Spectra® Enhanced Series IP PTZ Domes
7 PTZ IP Cameras are the latest product evolution in the legacy Spectra family providing fast and accurate pan and tilt with two options:
18X optical zoom, up to 4K 30 FPS video,
30X optical zoom, up to 2 MP 60 FPS video,
with next generation SureVision and AI-powered advanced analytics.
To increase megapixel camera performance in low-light situations and to reduce bandwidth-consuming night scene video noise, choose from a range of Pelco IR and white light illumination options.
Individual Infrared and White Light LED Illumination
Perfect for fixed and PTZ camera installations
Interchangeable lenses for addressing wide or narrow illumination
Casinos around the world need intelligent IP video security solutions to help decrease fraud, control liability issues,comply with regulations, and ensure customer safety expectations are met. From the flashing lights of slot machines to low lights in parking areas, extreme lighting conditions require video cameras designed to adapt automatically. Pelco cameras allow you to stay compliant with industry regulations while protecting your employees, customers, cash and property.
A robust network of video cameras and analytical tools is essential for keeping airport operations running smoothly. Exterior areas – from perimeter to parking lots to hangers – often have extreme light and dark sections in the same scene. The same is true inside the terminal, where glare from windows intersects with dimly lit corridors and corners. Having video cameras that automatically balance colors and images for clarity keep airport security and operations staff alert to suspicious activity and people flow issues.
Keeping traffic flowing 24/7/365 requires cameras that can adapt to all lighting conditions. Traffic managers need to be able to monitor vehicles and pedestrians through bright sunlight, glare, low lights, shade, and darkness. Having clear, crisp images in all lighting conditions in order to respond to traffic flow challenges, accidents, and weather-related issues is essential. Pelco cameras also feature video analytics that alert operators of accidents and hazardous conditions to ensure rapid responses .
One of the trickiest parts of surveillance is being able to see clear images when the ambient lighting is poor. What constitutes bad lighting? Here's a partial list of what can impact your surveillance efforts and your security team's ability to see what's really going on in video footage captured by security cameras: Low levels … Continue reading "Have Bad Light Or Low Light Problems? We Can Help"