From panoramic to fixed IP cameras, Pelco's smart compression solution is a constantly evolving technology that dynamically enhances your video surveillance experience. This benefit is optimized for seamless integration with Pelco's VideoXpert video management systems.However, we can also help you add this feature to leading third-party VMS platforms.
Pelco's Smart Compression Technology dynamically analyzes real-time motion in live video streams to intelligently compress the information you don't need.By enabling a dynamic group of pictures (GOP), Pelco's technology automatically reduces the number of I-frames in scenes with low motion while retaining high quality details in relevant traffic areas.Benefits of this approach include reducing bandwidth and storage requirements, as well as extending the recording duration.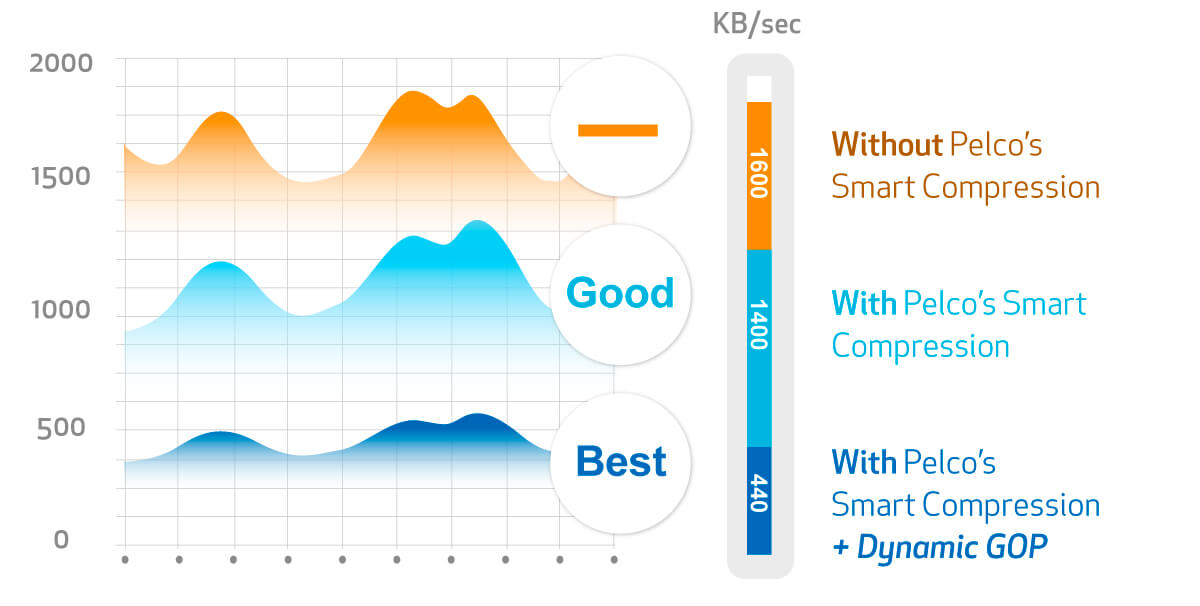 Let's assume a small business, such as a retail store or restaurant,installs 3MP indoor dome cameras.For security purposes, the owner wants to have 24/7 recording capabilities with 30 days retention at 15ips.
Without Pelco's smart compression technology, these dome cameras could require substantial investments in storage either upfront or on an ongoing basis. With smart compression, it's different.
Pelco's firmware can achieve up to 70% bandwidth savings based on the complexity of scenes and motion occurring. Now that store room with limited entries and exits, that closet with the safe,or any other low-traffic areas in your business are covered.
Learn more on our Security Insights blog.
---
Many Pelco IP cameras carry the IK 10 rating, which means they have been tested to assure protection against severe impact.A few of our vandal-resistant cameras are highlighted below. Pelco high security cameras carry an IK10++ rating that can withstand an impact of up to 50 Joules.
Sarix IBD Series
---
A high security corner mounted camera is intended for comprehensive coverage of small/medium size spaces where there is threat of vandalism or self-harm.
Casinos around the world need intelligent IP video security solutions to help decrease fraud, control liability issues,comply with regulations, and ensure customer safety expectations are met. From the flashing lights of slot machines to low lights in parking areas, extreme lighting conditions require video cameras designed to adapt automatically. Pelco cameras allow you to stay compliant with industry regulations while protecting your employees, customers, cash and property.
For areas where people and property are at high risk, making sure video surveillance is uninterrupted can save lives. Retail stores, campuses, and other high risk areas benefit from vandal-resistant cameras that are designed to withstand direct blows to their housings and lens covers without breaking and without interrupting the video. When an attempt is made to obscure the camera's view, like spray painting, covering or moving the camera, the camera tamper detection analytics send an alarm to security.
Keeping traffic flowing 24/7/365 requires cameras that can adapt to all lighting conditions. Traffic managers need to be able to monitor vehicles and pedestrians through bright sunlight, glare, low lights, shade, and darkness. Having clear, crisp images in all lighting conditions in order to respond to traffic flow challenges, accidents, and weather-related issues is essential. Pelco cameras also feature video analytics that alert operators of accidents and hazardous conditions to ensure rapid responses.