The IR light zooms itself automatically to illuminate any areas of interest. This capability is especially important for crime prevention in poorly lit spaces.
The infrared illumination (IR) has proportional brightness based upon zoom, creating visible pictures without any light up to 150 m from the camera.
The IR wavelength is 850 nm giving an almost undetectable light source in locations where visible light is undesired or light pollution is regulated.
As Pelco's first Spectra series to include the highest industry compression standard, the Spectra Professional IR cameras are designed for use in 24x7 surveillance applications for reducing bandwidth and storage needs.
Video Encoding
Spectra Pro IR series provides three methods of video encoding:
H.265 Main Profile,
H.264 High/Main/Baseline Profiles
MJPEG
Round-the-Clock Look-Up Capabilities
This camera represents Pelco's first offering with look-up capabilities in the Spectra Professional line. Combined with automated infrared zoom and digital image stabilization, the Spectra IR opens opportunities previously untapped to monitor events that occur + 15° above the horizon line, all day and all night.
This look-up feature is important for surveillance of bridges, seaports, and sporting venues where above-the-horizon views are required.
Pelco endeavors to be the most open and integrated camera provider in the industry and as a part of that effort Spectra Pro IR is integrated with a long and ever-growing list of 3rd party software and Video Management Systems (VMS).
Two models to suit your application
Powerful, versatile, and affordable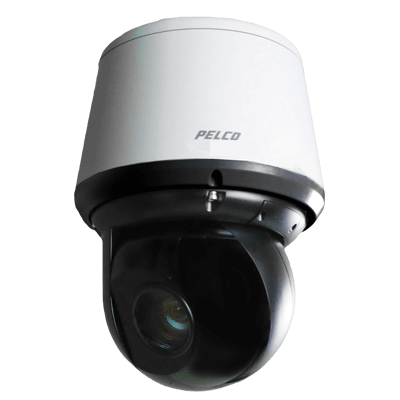 Spectra Pro IR 4K
P2820-ESR
Pelco's widest field-of-view Spectra PTZ ever. Maximum resolution for pulling details out of big areas.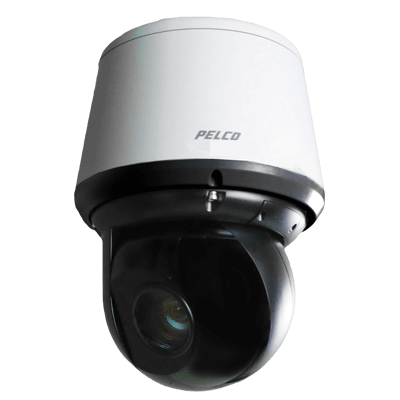 Spectra Pro IR - 2MP LL with WDR
P2230L-ESR
Bullet Indoor | Outdoor IR
Excellent low light and true WDR performance for your most demanding lighting situations.
Technical Documents & Spec Sheets
| Type | Date | Title | Ver # | Doc. Type | Product Category | Tags | Language | Link | doc_language_hfilter | doc_type_category_hfilter |
| --- | --- | --- | --- | --- | --- | --- | --- | --- | --- | --- |
| | April 27, 2020 | Spectra Pro IR Spec Sheet – Arabic | | Specification Sheets | Cameras, IR 2MP LL WDR, PTZ IP, Spectra Professional | | Arabic | media.pelco.com/wp-content/uploads/2020/06/15064227/C4071_Spectra_Pro_IR_Spec_Phase-2_AR_rebrand.pdf | arabic | specification-sheets |
| | April 27, 2020 | Spectra Pro IR Spec Sheet – German | | Specification Sheets | Cameras, IR 2MP LL WDR, PTZ IP, Spectra Professional | | German | media.pelco.com/wp-content/uploads/2020/06/15064203/C4071_Spectra_Pro_IR_Spec_Phase-2_DE_rebrand.pdf | german | specification-sheets |
| | April 27, 2020 | Spectra Pro IR Spec Sheet – Spanish | | Specification Sheets | Cameras, IR 2MP LL WDR, PTZ IP, Spectra Professional | | Spanish | media.pelco.com/wp-content/uploads/2020/06/15064206/C4071_Spectra_Pro_IR_Spec_Phase-2_rebrand_ES.pdf | spanish | specification-sheets |
| | April 27, 2020 | Spectra Pro IR Spec Sheet – French | | Specification Sheets | Cameras, IR 2MP LL WDR, PTZ IP, Spectra Professional | | French | media.pelco.com/wp-content/uploads/2020/06/15064210/C4071_Spectra_Pro_IR_Spec_Phase-2_rebrand_FR.pdf | french | specification-sheets |
| | April 27, 2020 | Spectra Pro IR Spec Sheet – Italian | | Specification Sheets | Cameras, IR 2MP LL WDR, PTZ IP, Spectra Professional | | Italian | media.pelco.com/wp-content/uploads/2020/06/15064213/C4071_Spectra_Pro_IR_Spec_Phase-2_rebrand_IT.pdf | italian | specification-sheets |
| | April 27, 2020 | Spectra Pro IR Spec Sheet – Korean | | Specification Sheets | Cameras, IR 2MP LL WDR, PTZ IP, Spectra Professional | | Korean | media.pelco.com/wp-content/uploads/2020/06/15064217/C4071_Spectra_Pro_IR_Spec_Phase-2_rebrand_KO.pdf | korean | specification-sheets |
| | April 27, 2020 | Spectra Pro IR Spec Sheet – Portuguese | | Specification Sheets | Cameras, IR 2MP LL WDR, PTZ IP, Spectra Professional | | Portuguese | media.pelco.com/wp-content/uploads/2020/06/15064222/C4071_Spectra_Pro_IR_Spec_Phase-2_rebrand_PT.pdf | portuguese | specification-sheets |
| | April 27, 2020 | Spectra Pro IR Spec Sheet – Russian | | Specification Sheets | Cameras, IR 2MP LL WDR, PTZ IP, Spectra Professional | | Russian | media.pelco.com/wp-content/uploads/2020/06/15064200/C4071_Spectra_Pro_IR_Spec_Phase-2_rebrand_RU.pdf | russian | specification-sheets |
| | April 27, 2020 | Spectra Pro IR Spec Sheet – Turkish | | Specification Sheets | Cameras, IR 2MP LL WDR, PTZ IP, Spectra Professional | | Turkish | media.pelco.com/wp-content/uploads/2020/06/15064233/C4071_Spectra_Pro_IR_Spec_Phase-2_rebrand_TR.pdf | turkish | specification-sheets |
| | May 1, 2020 | Spectra Pro 4K (P2820) — Firmware Release Notes v05.40.1.6 | v05.40.1.6 | Release Notes | Cameras, IR 4K, PTZ IP, Spectra Professional | | English | media.pelco.com/wp-content/uploads/2020/05/14181504/Spectra-Pro-4K-P2820-Firmware-Release-Notes-v05.40.1.6.pdf | english | release-notes |
| | May 1, 2020 | Spectra Pro IR — Firmware Release Notes v05.20.2.6 | v05.20.2.6 | Release Notes | Cameras, IR 2MP LL WDR, PTZ IP, Spectra Professional | | English | media.pelco.com/wp-content/uploads/2020/05/14191134/Spectra-Pro-IR-Firmware-Release-Notes-v05.20.2.6-pdf.pdf | english | release-notes |
| | May 1, 2020 | Spectra Pro IR LL (P2230L) — Firmware Release Notes v05.30.0.8 | v05.30.0.8 | Press Releases | Cameras, IR 2MP LL WDR, PTZ IP, Spectra Professional | | English | media.pelco.com/Spectra%20Pro%20IR%20LL%20P2230L%20--%20Firmware%20Release%20Notes%20v05.30.0.8.pdf | english | press-releases |
| | May 1, 2020 | Spectra Pro IR — Firmware Release Notes v05.20.2.2 | v05.20.2.2 | Release Notes | Cameras, IR 2MP LL WDR, PTZ IP, Spectra Professional | | English | media.pelco.com/wp-content/uploads/2020/05/14182951/Spectra-Pro-IR-Firmware-Release-Notes-v05.20.2.2-2.pdf | english | release-notes |
| | May 1, 2020 | Spectra Pro IR LL (P2230L) — Firmware Release Notes v05.30.0.4 | v05.30.0.4 | Release Notes | Archive, Cameras, Discontinued, IR 2MP LL WDR, PTZ IP, Spectra Professional | | English | media.pelco.com/wp-content/uploads/2020/05/14191514/Spectra-Pro-IR-LL-P2230L-Firmware-Release-Notes-v05.30.0.4-pdf.pdf | english | release-notes |
| | May 1, 2020 | Spectra Pro 4K (P2820) — Firmware Release Notes v05.40.1.4 | v05.40.1.4 | Release Notes | Cameras, IR 4K, PTZ IP, Spectra Professional | | English | media.pelco.com/wp-content/uploads/2020/05/14181504/Spectra-Pro-4K-P2820-Firmware-Release-Notes-v05.40.1.6.pdf | english | release-notes |
| | May 1, 2020 | Spectra Pro IR — Firmware Release Notes v05.20.2.4 | 05.20.2.4 | Release Notes | Cameras, IR 2MP LL WDR, PTZ IP, Spectra Professional | | English | media.pelco.com/Spectra%20Pro%20IR%20--%20Firmware%20Release%20Notes%20v05.20.2.4%20.pdf | english | release-notes |
| | May 7, 2020 | Spectra Professional 4k Series A&E Spec Sheets – English | | A&E Spec Sheets | Cameras, IR 4K, PTZ IP, Spectra Professional | | English | media.pelco.com/wp-content/uploads/2020/04/05190026/Spectra-Pro-4K-_AE_C4077A.docx | english | ae-spec-sheets |
| | May 7, 2020 | Spectra Professional IR 4K Series Specification Sheets – Arabic | | Specification Sheets | Cameras, IR 4K, PTZ IP, Spectra Professional | | Arabic | media.pelco.com/wp-content/uploads/2020/04/05183934/C4070_Spectra_Pro_IR_4K_Spec_ar-sa.pdf | arabic | specification-sheets |
| | May 7, 2020 | Spectra Professional IR 4K Series Specification Sheets – German | | Specification Sheets | Cameras, IR 4K, PTZ IP, Spectra Professional | | German | media.pelco.com/wp-content/uploads/2020/04/05184154/C4070_Spectra_Pro_IR_4K_Spec_DE.pdf | german | specification-sheets |
| | May 7, 2020 | Spectra Professional IR Series A&E Spec Sheets – English | | A&E Spec Sheets | Cameras, IR 2MP LL WDR, PTZ IP, Spectra Professional | | English | media.pelco.com/wp-content/uploads/2020/04/05182640/Spectra-Pro-IR_AE_C4056A.docx | english | ae-spec-sheets |
| | May 7, 2020 | Spectra Professional IR Series Specification Sheets – Italian | | Specification Sheets | Cameras, IR 2MP LL WDR, PTZ IP, Spectra Professional | | Italian | media.pelco.com/wp-content/uploads/2020/04/17152338/C4054_Spectra_Pro_IR_Spec_Italian.pdf | italian | specification-sheets |
| | May 7, 2020 | Spectra Professional IR Series Specification Sheets – French | | Specification Sheets | Cameras, IR 2MP LL WDR, PTZ IP, Spectra Professional | | French | media.pelco.com/wp-content/uploads/2020/05/19210544/C4054_Spectra_Pro_IR_Spec_French.pdf | french | specification-sheets |
| | May 7, 2020 | Spectra Professional IR Series Specification Sheets – Spanish | | Specification Sheets | Cameras, IR 2MP LL WDR, PTZ IP, Spectra Professional | | Spanish | media.pelco.com/wp-content/uploads/2020/04/17151736/C4054_Spectra_Pro_IR_Spec_Spanish.pdf | spanish | specification-sheets |
| | May 7, 2020 | Spectra Professional IR Series Specification Sheets – German | | Specification Sheets | Cameras, IR 2MP LL WDR, PTZ IP, Spectra Professional | | German | media.pelco.com/wp-content/uploads/2020/04/17151516/C4054_Spectra_Pro_IR_Spec_German.pdf | german | specification-sheets |
| | May 7, 2020 | Spectra Professional IR Series Specification Sheets – Portuguese | | Specification Sheets | Cameras, IR 2MP LL WDR, PTZ IP, Spectra Professional | | Portuguese | media.pelco.com/wp-content/uploads/2020/04/17150928/C4054_Spectra_Pro_IR_Spec_Brazil.pdf | portuguese | specification-sheets |
| | May 7, 2020 | Spectra Professional IR 4K Series Specification Sheets – Turkish | | Specification Sheets | Cameras, IR 4K, PTZ IP, Spectra Professional | | Turkish | media.pelco.com/wp-content/uploads/2020/04/05185418/C4070_Spectra_Pro_IR_4K_Spec_tr.pdf | turkish | specification-sheets |
| | May 7, 2020 | Spectra Professional IR 4K Series Installation Manual – English | | Installation Manual | Cameras, IR 4K, PTZ IP, Spectra Professional | | English | media.pelco.com/wp-content/uploads/2020/04/13203105/C2313M_Spectra-Pro-IR_4K_Install_031219_rebrand.pdf | english | installation-manual |
| | May 7, 2020 | Spectra Professional IR 4K Series Specification Sheets – Russian | | Specification Sheets | Cameras, IR 4K, PTZ IP, Spectra Professional | | Russian | media.pelco.com/wp-content/uploads/2020/04/05185242/C4070_Spectra_Pro_IR_4K_Spec_ru-ru.pdf | russian | specification-sheets |
| | May 7, 2020 | Spectra Professional IR 4K Series Specification Sheets – Portuguese | | Specification Sheets | Cameras, IR 4K, PTZ IP, Spectra Professional | | Portuguese | media.pelco.com/wp-content/uploads/2020/04/05185122/C4070_Spectra_Pro_IR_4K_Spec_PT-BR.pdf | portuguese | specification-sheets |
| | May 7, 2020 | Spectra Professional IR 4K Series Specification Sheets – Korean | | Specification Sheets | Cameras, IR 4K, PTZ IP, Spectra Professional | | Korean | media.pelco.com/wp-content/uploads/2020/04/05184934/C4070_Spectra_Pro_IR_4K_Spec_KO-KR.pdf | korean | specification-sheets |
| | May 7, 2020 | Spectra Professional IR 4K Series Specification Sheets – Italian | | Specification Sheets | Cameras, IR 4K, PTZ IP, Spectra Professional | | Italian | media.pelco.com/wp-content/uploads/2020/04/05184749/C4070_Spectra_Pro_IR_4K_Spec_IT.pdf | italian | specification-sheets |
| | May 7, 2020 | Spectra Professional IR 4K Series Specification Sheets – French | | Specification Sheets | Cameras, IR 4K, PTZ IP, Spectra Professional | | French | media.pelco.com/wp-content/uploads/2020/04/05184604/C4070_Spectra_Pro_IR_4K_Spec_FR.pdf | french | specification-sheets |
| | May 7, 2020 | Spectra Professional IR 4K Series Specification Sheets – Spanish | | Specification Sheets | Cameras, IR 4K, PTZ IP, Spectra Professional | | Spanish | media.pelco.com/wp-content/uploads/2020/04/05184410/C4070_Spectra_Pro_IR_4K_Spec_ES-LA.pdf | spanish | specification-sheets |
| | May 7, 2020 | Spectra Professional IR 4K Series Specification Sheets – Chinese | | Specification Sheets | Cameras, IR 4K, PTZ IP, Spectra Professional | | Chinese | media.pelco.com/wp-content/uploads/2020/04/05185802/C4070_Spectra_Pro_IR_4K_Spec_zh-cn.pdf | chinese | specification-sheets |
| | May 14, 2020 | Spectra Pro IR Spec Sheet | | Specification Sheets | Cameras, IR 2MP LL WDR, PTZ IP, Spectra Professional 7, Spectra Professional IR, Spectra Professional IR | | English | media.pelco.com/wp-content/uploads/2021/04/08081128/C4071_Spectra_Pro_IR_Spec_Phase-2_040721.pdf | english | specification-sheets |
| | September 8, 2020 | Spectra Pro IR PTZ Operations Manual | | Operations Manual | IR 4K, PTZ IP, Spectra Professional | | English | media.pelco.com/wp-content/uploads/2020/09/08093931/C2314M_SpectraPro-IR-IP-PTZ_Operations_Manual_032619_rebrand.pdf | english | operations-manual |
| | September 14, 2020 | Spectra Pro IR 4K Spec Sheet (English) | | Specification Sheets | IR 4K, PTZ IP, Spectra Professional | | English | media.pelco.com/wp-content/uploads/2020/09/14160226/C4070_Spectra_Pro_IR_4K_Spec_081020.pdf | english | specification-sheets |
| | September 23, 2020 | Spectra® Professional IR and 4K Series IP PTZ Outdoor Camera Operations Manual | | Operations Manual | Cameras, IR 4K, Spectra Professional | | English | media.pelco.com/wp-content/uploads/2020/09/23144629/C2314M_SpectraPro-IR-IP-PTZ_Operations_Manual_20200923.pdf | english | operations-manual |
| | October 14, 2020 | Spectra Professional — Firmware Release Notes v5.10.56 | 5.10.56 | Release Notes | Cameras, PTZ IP, PTZ IP Cameras, Spectra Professional, Spectra Professional, Spectra Professional 1 | | English | media.pelco.com/wp-content/uploads/2020/10/14110854/Spectra-Professional-Firmware-Release-Notes-v5.10.56.pdf | english | release-notes |
| | January 13, 2021 | Spectra Pro 4K (P2820) — Firmware Release Notes v05.40.1.9 | 05.40.1.9 | Release Notes | Cameras, IR 4K, PTZ IP, Spectra Professional | | English | media.pelco.com/wp-content/uploads/2021/01/13130806/Spectra-Pro-4K-P2820-Firmware-Release-Notes-v05.40.1.9.pdf | english | release-notes |
| | January 13, 2021 | Spectra Pro IR (P2230) — Firmware Release Notes v05.20.2.9 | 05.20.2.9 | Release Notes | Cameras, IR 2MP LL WDR, PTZ IP, Spectra Professional | | English | media.pelco.com/wp-content/uploads/2021/01/13135847/Spectra-Pro-IR-Firmware-Release-Notes-v05.20.2.9.pdf | english | release-notes |
| | January 13, 2021 | Spectra Pro IR LL (P2230L) — Firmware Release Notes v05.30.1.2 | 05.30.1.2 | Release Notes | Cameras, IR 2MP LL WDR, PTZ IP, Spectra Professional | | English | media.pelco.com/wp-content/uploads/2021/01/13152139/Spectra-Pro-IR-LL-P2230L-Firmware-Release-Notes-v05.30.1.2.pdf | english | release-notes |
| | February 23, 2021 | Spectra Pro 4K (P2820) — Firmware Release Notes v05.40.1.10 | 05.40.1.10 | Release Notes | Cameras, IR 4K, PTZ IP, Spectra Professional | | English | media.pelco.com/wp-content/uploads/2021/02/23112513/Spectra-Pro-4K-P2820-Firmware-Release-Notes-v05.40.1.10.pdf | english | release-notes |
| | March 10, 2021 | Spectra Pro IR (P2230) — Firmware Release Notes v05.20.2.10 | 05.20.2.10 | Release Notes | Cameras, IR 2MP LL WDR, PTZ IP, Spectra Professional | | English | media.pelco.com/wp-content/uploads/2021/03/10090551/Spectra-Pro-IR-Firmware-Release-Notes-v05.20.2.10.pdf | english | release-notes |
| | March 10, 2021 | Spectra Pro IR LL (P2230L) — Firmware Release Notes v05.30.1.3 | 05.30.1.3 | Release Notes | Cameras, IR 2MP LL WDR, PTZ IP, Spectra Professional | | English | media.pelco.com/wp-content/uploads/2021/03/10092800/Spectra-Pro-IR-LL-P2230L-Firmware-Release-Notes-v05.30.1.3.pdf | english | release-notes |
| | April 28, 2021 | Spectra Pro Series 2 Spec Sheet (English) | | Specification Sheets | Cameras, PTZ IP, PTZ IP Cameras, Spectra Professional, Spectra Professional | | English | media.pelco.com/wp-content/uploads/2021/04/30134506/C5044S_Spectra_Pro_Series-2_ProductSpec_042921.pdf | english | specification-sheets |
| | April 28, 2021 | Spectra Professional Series 2 Installation Manual (English) | | Installation Manual | Cameras, PTZ IP, PTZ IP Cameras, Spectra Professional, Spectra Professional | | English | media.pelco.com/wp-content/uploads/2021/04/28124135/C6675M_SpectraPro2_QSG_20210318.pdf | english | installation-manual |
| | April 28, 2021 | Spectra Professional Series 2 A&E | | A&E Spec Sheets | Cameras, PTZ IP, Spectra Professional, Spectra Professional 1 | | English | media.pelco.com/wp-content/uploads/2021/04/30134734/Spectra-Pro-Series-2_C5053A_AE_042921.docx | english | ae-spec-sheets |
| | May 14, 2021 | Spectra Professional — Firmware Release Notes v5.10.57 | 5.10.57 | Release Notes | Cameras, PTZ IP, PTZ IP Cameras, Spectra Professional, Spectra Professional, Spectra Professional 1 | | | media.pelco.com/wp-content/uploads/2021/05/14144828/Spectra-Professional-Firmware-Release-Notes-v5.10.57.pdf | | release-notes |
| | May 24, 2021 | Spectra Professional Series 2 Operations Manual | | Operations Manual | Cameras, PTZ IP, Spectra Professional, Spectra Professional | | English | media.pelco.com/wp-content/uploads/2021/05/24095948/C6706M_SpectraPro-IP-Dome_Operations_Manual_20210521.pdf | english | operations-manual |
| | September 6, 2021 | Spectra Professional 2 — Firmware Release Notes v05.50.1.10 | 05.50.1.10 | Release Notes | Cameras, PTZ IP, PTZ IP Cameras, Spectra Professional, Spectra Professional | | English | media.pelco.com/wp-content/uploads/2021/09/01111239/Spectra-Professional-2-Firmware-Release-Notes-v05.50.1.10.pdf | english | release-notes |
| Type | Date | Title | Ver # | Asset | Product Category | Tags | Link | download_type_hfilter |
| --- | --- | --- | --- | --- | --- | --- | --- | --- |
| | May 11, 2020 | SpectraPro P1220 Firmware Update v5.10.39 | 5.10.39 | Firmware | Cameras, PTZ IP Cameras, Spectra Professional | | media.pelco.com/SpectraPro%20P1220%20Firmware%20Update%20v5.10.39.zip | firmware |
| | May 11, 2020 | Spectra Professional P1220 Firmware v5.10.52 | 5.10.52 | Firmware | Cameras, PTZ IP Cameras, Spectra Professional | | media.pelco.com/Spectra%20Professional%20-%20P1220%20-%20Firmware%20v5.10.52.zip | firmware |
| | May 11, 2020 | Spectra Pro IR LL P2230L Firmware Update v05.30.0.8 | 5.30.0.8 | Firmware | Cameras, IR 2MP LL WDR, PTZ IP, Spectra Professional | Spectra Pro IR | media.pelco.com/Spectra%20Pro%20IR%20LL%20P2230L%20Firmware%20Update%20-%20v05.30.0.8.zip | firmware |
| | May 11, 2020 | Spectra Pro IR P2230-ESR Firmware Update v05.20.2.6 | 5.20.2.6 | Firmware | Cameras, IR 2MP LL WDR, PTZ IP, Spectra Professional | Spectra Pro IR | media.pelco.com/Spectra%20Pro%20IR%20P2230-ESR%20Firmware%20Update%20-%20v05.20.2.6.zip | firmware |
| | May 11, 2020 | Spectra Pro 4K P2820 Firmware Update v05.40.1.6 | 5.40.1.6 | Firmware | Cameras, IR 4K, PTZ IP, Spectra Professional | Spectra Pro 4k | media.pelco.com/Spectra%20Pro%204K%20P2820%20Firmware%20Update%20-%20v05.40.1.6.zip | firmware |
| | May 11, 2020 | Spectra Pro IR P2230-ESR Firmware Update v05.20.2.2 | 5.20.2.2 | Firmware | Cameras, IR 2MP LL WDR, PTZ IP, Spectra Professional | Spectra Pro IR | media.pelco.com/Spectra%20Pro%20IR%20P2230-ESR%20Firmware%20Update%20-%20v05.20.2.2.zip | firmware |
| | May 11, 2020 | Spectra Pro IR LL P2230L Firmware Update v05.30.0.4 | 5.30.0.4 | Firmware | Cameras, IR 2MP LL WDR, PTZ IP, Spectra Professional | Spectra Pro IR | media.pelco.com/Spectra%20Pro%20IR%20LL%20P2230L%20Firmware%20Update%20-%20v05.30.0.4.zip | firmware |
| | May 11, 2020 | Spectra Professional P1220 Firmware v5.10.54 | 5.10.54 | Firmware | Cameras, PTZ IP Cameras, Spectra Professional | | media.pelco.com/Spectra%20Professional%20-%20P1220%20-%20Firmware%20v5.10.54.zip | firmware |
| | May 11, 2020 | Spectra Pro 4K P2820 Firmware Update v05.40.1.4 | 5.40.1.4 | Firmware | Cameras, IR 4K, PTZ IP, Spectra Professional | Spectra Pro 4k | media.pelco.com/Spectra%20Pro%204K%20P2820%20Firmware%20Update%20-%20v05.40.1.4.zip | firmware |
| | May 11, 2020 | Spectra Pro IR P2230-ESR Firmware Update v05.20.2.4 | 5.20.2.4 | Firmware | Cameras, IR 2MP LL WDR, PTZ IP, Spectra Professional | Spectra Pro IR | media.pelco.com/Spectra%20Pro%20IR%20P2230-ESR%20Firmware%20Update%20-%20v05.20.2.4.zip | firmware |
| | May 11, 2020 | Spectra Professional P1220 Firmware v5.10.42 | 5.10.42 | Firmware | Archive, Cameras, PTZ IP Cameras, Spectra Professional | | media.pelco.com/Spectra%20Professional%20-%20P1220%20-%20Firmware%20v5.10.42.zip | firmware |
| | May 14, 2020 | Spectra Pro 4K (P2820) Firmware Update – v05.40.1.7 (zip) | 5.40.1.7 | Firmware | Cameras, IR 4K, PTZ IP, Spectra Professional | Spectra Pro 4k | media.pelco.com/wp-content/uploads/2020/05/14203530/Spectra-Pro-4K-P2820-Firmware-Update-v05.40.1.7-zip.zip | firmware |
| | May 14, 2020 | Spectra Pro IR LL (P2230L) Firmware Update – v05.30.0.9 (zip) | 5.30.0.9 | Firmware | Cameras, IR 2MP LL WDR, PTZ IP, Spectra Professional | Spectra Pro IR | media.pelco.com/wp-content/uploads/2020/05/14203949/Spectra-Pro-IR-LL-P2230L-Firmware-Update-v05.30.0.9-zip.zip | firmware |
| | May 14, 2020 | Spectra Pro IR P2230-ESR Firmware Update – v05.20.2.7 (zip) | 5.20.2.7 | Firmware | Cameras, IR 2MP LL WDR, PTZ IP, Spectra Professional | Spectra Pro IR | media.pelco.com/wp-content/uploads/2020/05/14204406/Spectra-Pro-IR-P2230-ESR-Firmware-Update-v05.20.2.7-zip.zip | firmware |
| | October 14, 2020 | Spectra Professional – P1220 – Firmware v5.10.56 | 5.10.56 | Firmware | Cameras, PTZ IP, PTZ IP Cameras, Spectra Professional, Spectra Professional, Spectra Professional 1 | | media.pelco.com/wp-content/uploads/2020/10/14110848/Spectra-Professional-P1220-Firmware-v5.10.56.zip | firmware |
| | January 13, 2021 | Spectra Pro 4K (P2820) Firmware Update – v05.40.1.9 | 05.40.1.9 | Firmware | Cameras, IR 4K, PTZ IP, Spectra Professional | | media.pelco.com/wp-content/uploads/2021/01/13130820/Spectra-Pro-4K-P2820-Firmware-Update-v05.40.1.9.zip | firmware |
| | January 13, 2021 | Spectra Pro IR (P2230) Firmware Update – v05.20.2.9 | 05.20.2.9 | Firmware | Cameras, IR 2MP LL WDR, PTZ IP, Spectra Professional | | media.pelco.com/wp-content/uploads/2021/01/13135902/Spectra-Pro-IR-P2230-ESR-Firmware-Update-v05.20.2.9.zip | firmware |
| | January 13, 2021 | Spectra Pro IR LL (P2230L) Firmware Update – v05.30.1.2 | 05.30.1.2 | Firmware | Cameras, IR 2MP LL WDR, PTZ IP, Spectra Professional | | media.pelco.com/wp-content/uploads/2021/01/13152151/Spectra-Pro-IR-LL-P2230L-Firmware-Update-v05.30.1.2.zip | firmware |
| | February 23, 2021 | Spectra Pro 4K (P2820) Firmware Update – v05.40.1.10 | 05.40.1.10 | Firmware | Cameras, IR 4K, PTZ IP, Spectra Professional | | media.pelco.com/wp-content/uploads/2021/02/23112533/Spectra-Pro-4K-P2820-Firmware-Update-v05.40.1.10.zip | firmware |
| | March 10, 2021 | Spectra Pro IR (P2230) Firmware Update – v05.20.2.10 | 05.20.2.10 | Firmware | Cameras, IR 2MP LL WDR, PTZ IP, Spectra Professional | | media.pelco.com/wp-content/uploads/2021/03/10090619/Spectra-Pro-IR-P2230-ESR-Firmware-Update-v05.20.2.10.zip | firmware |
| | March 10, 2021 | Spectra Pro IR LL (P2230L) Firmware Update – v05.30.1.3 | 05.30.1.3 | Firmware | Cameras, IR 2MP LL WDR, PTZ IP, Spectra Professional | | media.pelco.com/wp-content/uploads/2021/03/10092828/Spectra-Pro-IR-LL-P2230L-Firmware-Update-v05.30.1.3.zip | firmware |
| | May 14, 2021 | Spectra Professional – P1220 – Firmware v5.10.57 | 5.10.57 | Firmware | Cameras, PTZ IP, PTZ IP Cameras, Spectra Professional, Spectra Professional, Spectra Professional 1 | | media.pelco.com/wp-content/uploads/2021/05/14144838/Spectra-Professional-P1220-Firmware-v5.10.57.zip | firmware |
| | September 6, 2021 | Spectra Professional 2 – P2230L – Firmware v05.50.1.10 | 05.50.1.10 | Firmware | Cameras, PTZ IP, PTZ IP Cameras, Spectra Professional, Spectra Professional | | media.pelco.com/wp-content/uploads/2021/09/01111233/Spectra-Professional-2-P2230L-Firmware-v05.50.1.10.zip | firmware |