Best in Class Camera Imaging
Full HD 1080p 30x Zoom
60 Frames per Second
SureVision 3.0
0.03 lux Ultra Low Light Performance
130dB WDR
Anti-bloom
3D noise filtering
Image Defog
Electronic Image Stabilization
Vivid Mode
High Optical Clarity Window
High Performance Construction
316L Electro-polished billet Stainless Steel
100% of the welds are robotically laser welded and hydrostatically pressure tested
Operating range of -60° to +60°C
Ice Free Widows to -40°C (PTZ) , -35°C (Fixed)
IP66, IP67, IP68 Ingress Protection
T6 Surface Temperature Rating through entire temperature range
Integrated Wiper included on all models
---
Explosion proof and nearly indestructible: Because of its robotic welded enclosure, ExSite Enhanced can survive the harshest environments on the planet: extreme cold, extreme heat, heavy winds and dust.
Vari-Zoom Illuminator option on Pan/Tilt models
Long-range Illumination (200+ meters)
Angle and Power of illumination synchronized with camera zoom
Consistent illumination throughout camera zoom range
Only Ex camera with this feature
Variable Illumination: Lighting in the harsh environments where ExSite Enhanced is used will vary greatly, and the long-range, variable-zoom IR feature adjusts automatically.
Dual cable entries for multiple data and power configurations
Ethernet (1000Base-TX or100Base-TX)
Integrated SFP/FSFP modules to support Fiber, Ethernet-over-Coax (EoC), or UTP
4 Alarm Inputs
2 Relay Outputs (1 is dedicated for the washer)
Compatible with Third Party Explosionproof Wash Systems
ExSite uses a closed-loop direct drive positioning system that requires no belts or gears to move the camera. In this way, wear and tear is reduced within the positioning mechanism and required maintenance is greatly reduced.
Also, the closed loop system has outstanding position memory. If the camera is pushed out of position, by a heavy wind, for example, ExSite will remember its position and return to it quickly. The motor is steady and strong enough to continue operating in hurricane-force winds. All of this is especially important for ExSite customers because the cameras are placed where it's very expensive to send repair or maintenance crews.
ExSite® Enhanced Explosion-Proof Camera System
---
High Reliability, Full HD Fixed And PTZ IP Systems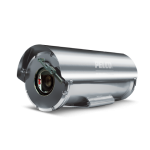 FULL HD FIXED IP SYSTEMS
---
Explosion-proof Camera System: High Reliability, Full HD Fixed IP Systems
Up to 1920 x 1080p Resolution Wide Dynamic Range (WDR),
30x zoom lens, and Superb Low light Performance
Dual Stream H.264 IP Video with Smart Compression
Rated to Operate from -60 to +60° C while in Compliance to T6
Surface Temperature (<85° C) Hazardous Location Regulations
316L Billet Stainless Steel Electro Polished Construction
Standard IP Ethernet Connection and Integrated Transmission
Options including Fiber, Ethernet over Coax, and UTP Extension
PTZ & IR Illuminator Option
---
Explosion-proof Camera System: High Reliability, Full HD PTZ IP Systems with Variable Zoom IR Illuminator.
Includes Features in ''Fixed'', including the following:
Extremely Reliable Pan/Tilt Direct Drive Motion Control System
Upright or Inverted Installation with Automatic Orientation Detection
Low Latency Electronics for Improved Pan/Tilt Driveability and Safety
Vari-zoom IR Illuminator Option with 200 Meter Range
EXP1230-4N
EXP1230-7N
EXP1230-7M
Technical Documents & Spec Sheets
| Type | Date | Title | Ver # | Doc. Type | Product Category | Tags | Language | Link | doc_language_hfilter | doc_type_category_hfilter |
| --- | --- | --- | --- | --- | --- | --- | --- | --- | --- | --- |
| | October 13, 2020 | Exsite PTZ Camera Mounts Adapters – CAD (zip) | | CAD Drawings | Accessories, Camera Mounts, ExSite Enhanced PTZ | axm200, cmxm200, paxm200, PXM200, WXM100 | English | media.pelco.com/wp-content/uploads/2020/10/13161310/Exsite-PTZ-Camera-Mounts-Adapters.zip | english | cad-drawings |
| | October 13, 2020 | ExSite Enhanced Fixed CAD | | CAD Drawings | ExSite Enhanced Explosion-Proof, ExSite IP, PTZ IP Cameras, Specialty IP | | | media.pelco.com/wp-content/uploads/2020/05/ExSite_Enhanced-Fixed-EXF1230-4N.dwg | | cad-drawings |
| | September 1, 2020 | ExSite Enhanced — Firmware Release Notes v2.13.4.6 | 2.13.4.6 | Release Notes | Cameras, Explosion Proof, ExSite Enhanced, ExSite Enhanced Explosion-Proof, ExSite Enhanced PTZ, Specialty IP | | English | media.pelco.com/wp-content/uploads/2020/09/01125528/ExSite-Enhanced-Firmware-Release-Notes-v2.13.4.6.pdf | english | release-notes |
| | June 23, 2020 | ExSite Enhanced Fixed Series Specification Sheets – Korean | | Specification Sheets | Cameras, Explosion Proof, ExSite Enhanced | | Korean | media.pelco.com/wp-content/uploads/2020/06/23153821/ExSite-Enhanced-Fixed-IP-System-Spec-Sheet-Korean-C4017.pdf | korean | specification-sheets |
| | June 23, 2020 | ExSite Enhanced Fixed Series Specification Sheets – Italian | | Specification Sheets | ExSite Enhanced, ExSite Enhanced Explosion-Proof, ExSite IP | | Italian | media.pelco.com/wp-content/uploads/2020/06/23153827/ExSite-Enhanced-Fixed-IP-System-Spec-Sheet-Italian-C4017.pdf | italian | specification-sheets |
| | June 22, 2020 | ExSite – ExSite IP Series Explosionproof Pan – Tilt System Installation Manual | | Installation Manual | Cameras, Explosion Proof, ExSite Enhanced | | English | media.pelco.com/wp-content/uploads/2020/06/22153733/ExSite-ExSite-IP-Series-Explosionproof-Pan-Tilt-System-Installation-Manual-C1302.pdf | english | installation-manual |
| | June 22, 2020 | ExSite Enahnced Series – Fixed Camera A&E | | A&E Spec Sheets | Cameras, Explosion Proof, ExSite Enhanced, Fixed | | English | media.pelco.com/wp-content/uploads/2020/06/22153727/ExSite-Enahnced-Series-Fixed-Camera-AE.doc | english | ae-spec-sheets |
| | May 26, 2020 | ExSite Enhanced EXP1230-7N – CAD | | CAD Drawings | Cameras, Explosion Proof, ExSite Enhanced | | | media.pelco.com/wp-content/uploads/2021/01/05103026/ExSite_Enhanced-EXP1230-7N.dwg | | cad-drawings |
| | May 22, 2020 | ExSite Enhanced PTZ IP System Spec Sheet – Korean | | Specification Sheets | Cameras, Explosion Proof, ExSite Enhanced, PTZ | | Korean | www.pelco.com/wp-content/uploads/2020/05/ExSite-Enhanced-PTZ-IP-System-Spec-Sheet-Korean.pdf | korean | specification-sheets |
| | May 22, 2020 | ExSite Enhanced Fixed IP System Spec Sheet – Korean | | Specification Sheets | Cameras, Explosion Proof, ExSite Enhanced, Fixed | | Korean | www.pelco.com/wp-content/uploads/2020/05/ExSite-Enhanced-Fixed-IP-System-Spec-Sheet-Korean.pdf | korean | specification-sheets |
| | May 19, 2020 | ExSite Enhanced Fixed Series Specification Sheets | | Specification Sheets | Cameras, Explosion Proof, ExSite Enhanced, Fixed | | English | media.pelco.com/wp-content/uploads/2020/05/19174637/C4017-ExSite-Enhanced-Fixed-IP-System-Spec-Sheet-English.pdf | english | specification-sheets |
| | May 19, 2020 | ExSite Enhanced PTZ Series Specification Sheets | | Specification Sheets | Cameras, Explosion Proof, ExSite Enhanced, PTZ | | English | media.pelco.com/wp-content/uploads/2020/07/03070913/C4042-ExSite-Enhanced-PTZ-IP-System-Spec-Sheet-English-1.pdf | english | specification-sheets |
| | May 9, 2020 | ExSite Enhanced Series – Fixed Camera A&E | | A&E Spec Sheets | Cameras, Explosion Proof, ExSite Enhanced, Fixed | | English | media.pelco.com/ExSite%20Enahnced%20Series%20-%20Fixed%20Camera%20A&E.doc | english | ae-spec-sheets |
| | May 7, 2020 | ExSite Enhanced Series Operations Manual – English | | Operations Manual | Cameras, Explosion Proof, ExSite Enhanced | | English | media.pelco.com/wp-content/uploads/2020/04/02220955/c1346m_exsite_enhanced_operations_021918.pdf | english | operations-manual |
| | May 7, 2020 | ExSite Enhanced PTZ Series Specification Sheets – French | | Specification Sheets | Cameras, Explosion Proof, ExSite Enhanced, PTZ | | French | media.pelco.com/wp-content/uploads/2020/04/13191742/C4042_ExSite_Enhanced_PTZ_Spec_French.pdf | french | specification-sheets |
| | May 7, 2020 | ExSite Enhanced PTZ Series A&E Spec Sheets – English | | A&E Spec Sheets | Cameras, Explosion Proof, ExSite Enhanced, PTZ | | English | media.pelco.com/wp-content/uploads/2020/04/05231007/ExSiteEnhanced-PTZ_AE_092019.docx | english | ae-spec-sheets |
| | May 7, 2020 | ExSite Enhanced PTZ Series Installation Manual – English | | Installation Manual | Cameras, Explosion Proof, ExSite Enhanced, PTZ | | English | media.pelco.com/wp-content/uploads/2020/04/06192408/C1345M_ExSiteEnhanced-PTZ-Install_082319_rebrand_v2.pdf | english | installation-manual |
| | May 7, 2020 | ExSite Enhanced PTZ Series Installation Manual – Turkish | | Installation Manual | Cameras, Explosion Proof, ExSite Enhanced, PTZ | | Turkish | media.pelco.com/wp-content/uploads/2020/04/17183924/C1345M_ExSiteEnhanced_rebrand.pdf | turkish | installation-manual |
| | May 7, 2020 | ExSite Enhanced PTZ Series Installation Manual – Portuguese | | Installation Manual | Cameras, Explosion Proof, ExSite Enhanced, PTZ | | Portuguese | media.pelco.com/wp-content/uploads/2020/04/07052055/C1345M-ExSite-Enhanced-PTZ-Installation-Manual-BR.pdf | portuguese | installation-manual |
| | May 7, 2020 | ExSite Enhanced PTZ Series Installation Manual – Chinese | | Installation Manual | Cameras, Explosion Proof, ExSite Enhanced, PTZ | | Chinese | media.pelco.com/wp-content/uploads/2020/04/17184648/CN-C1345M_ExSiteEnhanced_rebrand.pdf | chinese | installation-manual |
| | May 7, 2020 | ExSite Enhanced PTZ Series Installation Manual – Spanish | | Installation Manual | Cameras, Explosion Proof, ExSite Enhanced, PTZ | | Spanish | media.pelco.com/wp-content/uploads/2020/04/07052125/C1345M-ExSite-Enhanced-PTZ-Installation-Manual-ES.pdf | spanish | installation-manual |
| | May 7, 2020 | ExSite Enhanced PTZ Series Installation Manual – German | | Installation Manual | Cameras, Explosion Proof, ExSite Enhanced, PTZ | | German | media.pelco.com/wp-content/uploads/2020/04/07052106/C1345M-ExSite-Enhanced-PTZ-Installation-Manual-DE.pdf | german | installation-manual |
| | May 7, 2020 | ExSite Enhanced PTZ Series Installation Manual – French | | Installation Manual | Cameras, Explosion Proof, ExSite Enhanced, PTZ | | French | media.pelco.com/wp-content/uploads/2020/04/07052131/C1345M-ExSite-Enhanced-PTZ-Installation-Manual-FR.pdf | french | installation-manual |
| | May 7, 2020 | ExSite Enhanced PTZ Series Specification Sheets – German | | Specification Sheets | Cameras, Explosion Proof, ExSite Enhanced, PTZ | | German | media.pelco.com/wp-content/uploads/2020/04/13190525/C4042_ExSite_Enhanced_PTZ_Spec_German.pdf | german | specification-sheets |
| | May 7, 2020 | ExSite Enhanced PTZ Series Specification Sheets – Spanish | | Specification Sheets | Cameras, Explosion Proof, ExSite Enhanced, PTZ | | Spanish | media.pelco.com/wp-content/uploads/2020/04/13190956/C4042_ExSite_Enhanced_PTZ_Spec_Spanish.pdf | spanish | specification-sheets |
| | May 7, 2020 | ExSite Enhanced PTZ Series Specification Sheets – Chinese | | Specification Sheets | Cameras, Explosion Proof, ExSite Enhanced, PTZ | | Chinese | media.pelco.com/wp-content/uploads/2020/04/07160110/C4042_ExSite_Enhanced_PTZ_Spec_Chinese.pdf | chinese | specification-sheets |
| | May 7, 2020 | ExSite Enhanced Fixed Series Installation Manual – English | | Installation Manual | Cameras, Explosion Proof, ExSite Enhanced, Fixed | | English | media.pelco.com/wp-content/uploads/2020/12/17103908/C1346M_ExSiteEnhanced_FixedInstall_082319_rebrand.pdf | english | installation-manual |
| | May 7, 2020 | ExSite Enhanced Fixed Series Installation Manual – Arabic | | Installation Manual | Cameras, Explosion Proof, ExSite Enhanced, Fixed | | Arabic | media.pelco.com/wp-content/uploads/2020/04/07052140/C1346M-ExSite-Enhanced-Fixed-Installation-Manual-AR.pdf | arabic | installation-manual |
| | May 7, 2020 | ExSite Enhanced Fixed Series Installation Manual – Portuguese | | Installation Manual | Cameras, Explosion Proof, ExSite Enhanced, Fixed | | Portuguese | media.pelco.com/wp-content/uploads/2020/04/17185141/C1346M_ExSiteEnhanced_FixedInst_rebrand_BR.pdf | portuguese | installation-manual |
| | May 7, 2020 | ExSite Enhanced Fixed Series Installation Manual – German | | Installation Manual | Cameras, Explosion Proof, ExSite Enhanced, Fixed | | German | media.pelco.com/wp-content/uploads/2020/04/07052152/C1346M-ExSite-Enhanced-Fixed-Installation-Manual-DE.pdf | german | installation-manual |
| | May 7, 2020 | ExSite Enhanced Fixed Series Installation Manual – Chinese | | Installation Manual | Cameras, Explosion Proof, ExSite Enhanced, Fixed | | Chinese | media.pelco.com/wp-content/uploads/2020/04/17191006/C1346M_ExSiteEnhanced_FixedInst_rebrand_CN.pdf | chinese | installation-manual |
| | May 7, 2020 | ExSite Enhanced Fixed Series Installation Manual – Spanish | | Installation Manual | Cameras, Explosion Proof, ExSite Enhanced, Fixed | | Spanish | media.pelco.com/wp-content/uploads/2020/04/07052216/C1346M-ExSite-Enhanced-Fixed-Installation-Manual-ES.pdf | spanish | installation-manual |
| | May 7, 2020 | ExSite Enhanced Fixed Series Installation Manual – French | | Installation Manual | Cameras, Explosion Proof, ExSite Enhanced, Fixed | | French | media.pelco.com/wp-content/uploads/2020/04/07052222/C1346M-ExSite-Enhanced-Fixed-Installation-Manual-FR.pdf | french | installation-manual |
| | May 7, 2020 | ExSite Enhanced Fixed Series Specification Sheets – Portuguese | | Specification Sheets | Cameras, Explosion Proof, ExSite Enhanced, Fixed | | Portuguese | media.pelco.com/wp-content/uploads/2020/06/23153817/ExSite-Enhanced-Fixed-IP-System-Spec-Sheet-Portuguese-C4017.pdf | portuguese | specification-sheets |
| | May 7, 2020 | ExSite Enhanced Fixed Series Specification Sheets – German | | Specification Sheets | Cameras, Explosion Proof, ExSite Enhanced, Fixed | | German | media.pelco.com/wp-content/uploads/2020/06/23153833/ExSite-Enhanced-Fixed-IP-System-Spec-Sheet-German-C4017.pdf | german | specification-sheets |
| | May 7, 2020 | ExSite Enhanced Fixed Series Specification Sheets – Turkish | | Specification Sheets | Cameras, Explosion Proof, ExSite Enhanced, Fixed | | Turkish | media.pelco.com/wp-content/uploads/2020/06/23153801/ExSite-Enhanced-Fixed-IP-System-Spec-Sheet-Turkish-C4017.pdf | turkish | specification-sheets |
| | May 7, 2020 | ExSite Enhanced Fixed Series Specification Sheets – Arabic | | Specification Sheets | Cameras, Explosion Proof, ExSite Enhanced, Fixed | | Arabic | media.pelco.com/wp-content/uploads/2020/06/23161400/ExSite-Enhanced-Fixed-Series-Specification-Sheets-Arabic-C4017.pdf | arabic | specification-sheets |
| | May 7, 2020 | ExSite Enhanced Fixed Series Specification Sheets – Chinese | | Specification Sheets | Cameras, Explosion Proof, ExSite Enhanced, Fixed | | Chinese | media.pelco.com/wp-content/uploads/2020/06/23161356/ExSite-Enhanced-Fixed-Series-Specification-Sheets-Chinese-C4017.pdf | chinese | specification-sheets |
| | May 7, 2020 | ExSite Enhanced Fixed Series Specification Sheets – Spanish | | Specification Sheets | Cameras, Explosion Proof, ExSite Enhanced, Fixed | | Spanish | media.pelco.com/wp-content/uploads/2020/04/07095124/ExSite-Enhanced-Fixed-IP-System-Spec-Sheet-Spanish.pdf | spanish | specification-sheets |
| | May 7, 2020 | ExSite Enhanced Fixed Series Specification Sheets – French | | Specification Sheets | Cameras, Explosion Proof, ExSite Enhanced, Fixed | | French | media.pelco.com/wp-content/uploads/2020/06/23153837/ExSite-Enhanced-Fixed-IP-System-Spec-Sheet-French-C4017.pdf | french | specification-sheets |
| | May 7, 2020 | ExSite Enhanced PTZ Series Specification Sheets – Turkish | | Specification Sheets | Cameras, Explosion Proof, ExSite Enhanced, PTZ | | Turkish | media.pelco.com/wp-content/uploads/2020/04/17220416/C4042_ExSite_HDPTZ_Spec_122117_rebrand_TR.pdf | turkish | specification-sheets |
| | May 7, 2020 | ExSite Enhanced PTZ Series Specification Sheets – Arabic | | Specification Sheets | Cameras, Explosion Proof, ExSite Enhanced, PTZ | | Arabic | media.pelco.com/wp-content/uploads/2020/04/07153707/C4042_ExSite_Enhanced_PTZ_Spec_AR.pdf | arabic | specification-sheets |
| | May 7, 2020 | ExSite Enhanced PTZ Series Specification Sheets – Portuguese | | Specification Sheets | Cameras, Explosion Proof, ExSite Enhanced, PTZ | | Portuguese | media.pelco.com/wp-content/uploads/2020/04/07155436/C4042_ExSite_Enhanced_PTZ_Spec_Brazilian_Portuguese.pdf | portuguese | specification-sheets |
| | May 7, 2020 | ExSite Enhanced Fixed Series A&E Spec Sheets – English | | A&E Spec Sheets | Cameras, Explosion Proof, ExSite Enhanced, Fixed | | English | media.pelco.com/wp-content/uploads/2020/04/05230850/ExSiteEnhanced-Fixed_AE_092619.docx | english | ae-spec-sheets |
| | May 1, 2020 | ExSite Enhanced — Firmware Release Notes v2.13.1.3 | v2.13.1.3 | Release Notes | Cameras, Explosion Proof, ExSite Enhanced, Fixed | | English | media.pelco.com/ExSite%20Enhanced%20--%20Firmware%20Release%20Notes%20v2.13.1.3%20.pdf | english | release-notes |
| | May 1, 2020 | ExSite Series Explosionproof Positioning System Specification Sheet | | Specification Sheets | Cameras, Explosion Proof, ExSite Enhanced | | English | media.pelco.com/wp-content/uploads/2020/06/12095816/C1300-ExSite-Series-Explosionproof-Positioning-System-Specification-Sheet.pdf | english | specification-sheets |
| Type | Date | Title | Ver # | Asset | Product Category | Tags | Link | download_type_hfilter |
| --- | --- | --- | --- | --- | --- | --- | --- | --- |
| | 2018/10/08 | ExSite Enhanced EXP1230 Firmware Update v2.12.0.8 | 2.12.0.8 | Firmware | Archive, Cameras, Explosion Proof, ExSite Enhanced, PTZ | | media.pelco.com/ExSite%20Enhanced%20EXP1230%20Firmware%20Update%20-%20v2.12.0.8.zip | firmware |
| | 2018/12/17 | ExSite Enhanced EXP1230 Firmware Update v2.12.1.1 | 2.12.1.1 | Firmware | Cameras, ExSite Enhanced PTZ, Specialty IP | | media.pelco.com/ExSite%20Enhanced%20EXP1230%20Firmware%20Update%20-%20v2.12.1.1.zip | firmware |
| | 2019/06/11 | ExSite Enhanced EXP1230 Firmware Update v2.13.0.17 | 2.13.0.17 | Firmware | Cameras, ExSite Enhanced PTZ, Specialty IP | | media.pelco.com/ExSite%20Enhanced%20EXP1230%20Firmware%20Update%20-%20v2.13.0.17.zip | firmware |
| | 2019/07/01 | ExSite Enhanced EXP1230 Firmware Update v2.13.1.3 | 2.13.1.3 | Firmware | Cameras, ExSite Enhanced PTZ, Specialty IP | | media.pelco.com/ExSite%20Enhanced%20EXP1230%20Firmware%20Update%20-%20v2.13.1.3.zip | firmware |
| | 2018/07/11 | ExSite Enhanced EXP1230 Firmware Update v2.11.1.7 | 2.11.1.7 | Firmware | Archive, Cameras, Explosion Proof, ExSite Enhanced, PTZ | | media.pelco.com/ExSite%20Enhanced%20EXP1230%20Firmware%20Update%20-%20v2.11.1.7.zip | firmware |
| | 2020/09/01 | ExSite Enhanced EXP1230 Firmware Update – v2.13.4.6 | 2.13.4.6 | Firmware | Cameras, Explosion Proof, ExSite Enhanced, ExSite Enhanced Explosion-Proof, ExSite Enhanced PTZ, Specialty IP | | media.pelco.com/wp-content/uploads/2020/09/01125658/ExSite-Enhanced-EXP1230-Firmware-Update-v2.13.4.6.zip | firmware |
| | 2020/09/01 | ExSite Enhanced EXF1230 Firmware Update – v2.13.4.6 | 2.13.4.6 | Firmware | Cameras, Explosion Proof, ExSite Enhanced, ExSite Enhanced Explosion-Proof, ExSite Enhanced PTZ, Specialty IP | | media.pelco.com/wp-content/uploads/2020/09/01125612/ExSite-Enhanced-EXF1230-Firmware-Update-v2.13.4.6.zip | firmware |